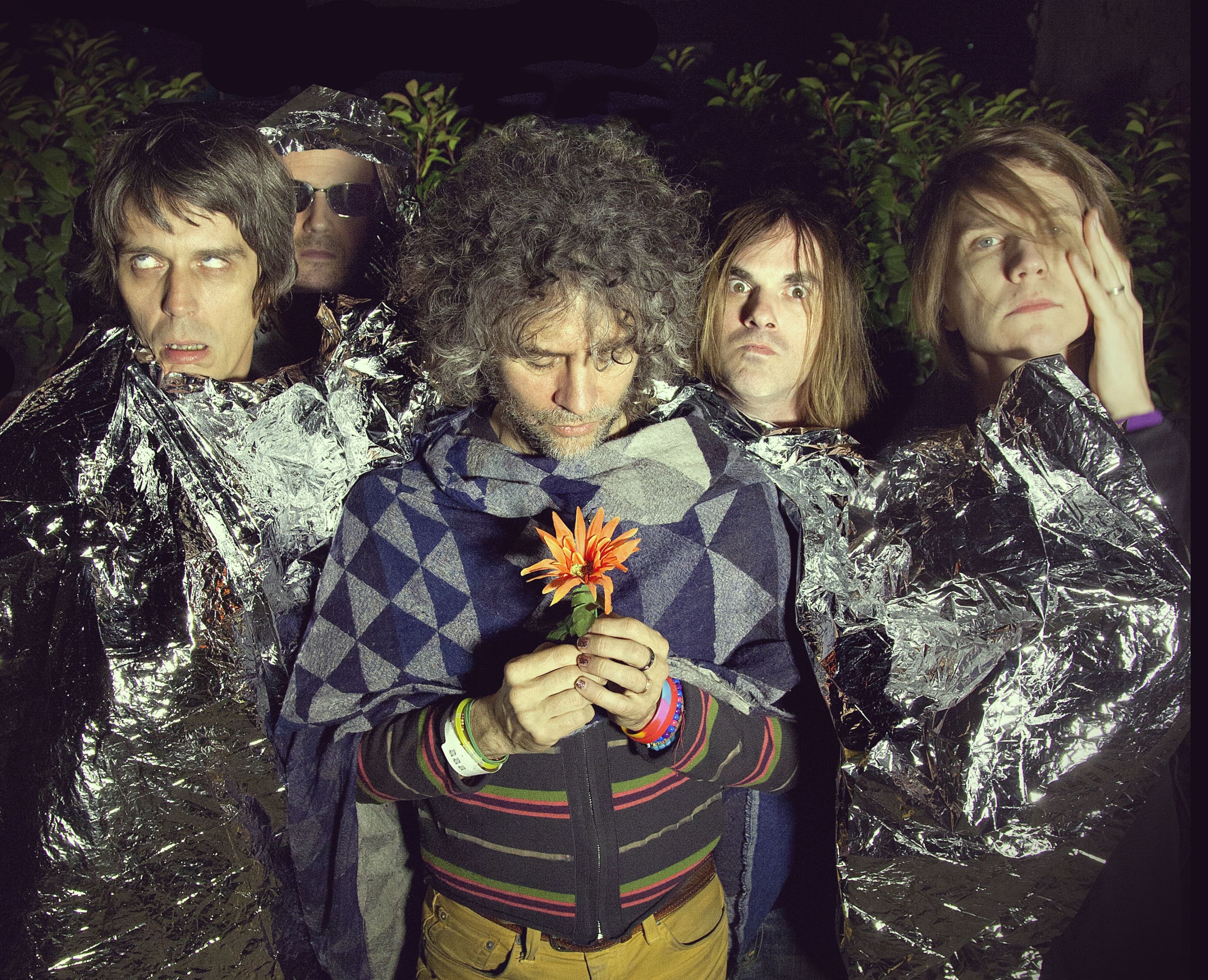 THE FLAMING LIPS ANNOUNCE SXSW PERFORMANCE PLUS UK AND EUROPEAN SHOWS AND FESTIVALS IN SUPPORT OF NEW ALBUM
-THE TERROR, DUE APRIL 2nd, 2013, FROM WARNER BROS. RECORDS
-BAND ON TOUR IN THE U.S. WITH THE BLACK KEYS THIS SPRING
LATE SHOW WITH DAVID LETTERMAN CONFIRMED FOR APRIL 3rd
March 5, 2013 – (Burbank, CA) – THE FLAMING LIPS have confirmed a string of Spring live concert experiences around the world in support of their groundbreaking new album The Terror, which will be released on April 2nd in the U.S. and on April 1st through Bella Union in Europe.
At last the rumors are, in fact, correct! The Flaming Lips will perform not once, but twice at this year's SXSW Interactive / Film / Music Conference at Austin TX. Details are listed below. In Addition, Wayne's "A YEAR IN THE LIFE OF WAYNE'S PHONE" film – shot entirely on his iPhone — will make its world premiere at SXSW and will screen at the Alamo Ritz Theater on Wed , Mar 13th, at 9:15PM. A special Q & A with Wayne will follow the screening.
After performing at SXSW in March, the band heads to Brazil to blow minds at Lollapalooza. They then hit the road for a series of dates with The Black Keys, a one-off with JEFF The Brotherhood, plus various festivals in California, Brooklyn, Paris, and Scandinavia. Throw in a pair of shows in London at the Roundhouse and you have the makings of some otherworldly nights out in your near future. All upcoming tour dates are listed below.
The Terror was once again co-produced by long-time collaborator Dave Fridmann and THE FLAMING LIPS at Tarbox Road Studios with additional recording at Wayne's Pink Floor Studios in OKC. It is comprised of nine original compositions that reflect a darker-hued spectrum than previous works, along with a more inward-looking lyrical perspective but certainly not one without hope. The album is currently available for digital pre-order through the iTunes Store and other participating digital retailers. All pre-orders include an Instant Gratification, non-album, bonus track titled "Sun Blows Up Today." 
Also just confirmed is an April 3rd performance on CBS' Late Show with David Letterman. Turn on, tune in, and the rest is up to you.
Tour & Event Dates:
Mar 13              Alamo Ritz Theater        SXSW Movie Premier: "A Year in the Life of Wayne's   
Phone" w/ Wayne Coyne Q&A – 9:15PM
Mar 14              Austin, TX                      The Belmont / The Warner Sound @ SXSW
Mar 15              Austin, TX                     Auditorium Shores @ SXSW (8pm set time)
Mar 29              Sao Paulo, Brazil          Lollapalooza Brazil
Apr 3                Late Show w/ David Letterman NYC
Apr 28              Kansas City, MO           Sprint Center w/ The Black Keys
Apr 29              Indianapolis, IN              Egyptian Room at Old National Centre
Apr 30              Pittsburgh, PA               Consol Energy Center w/ The Black Keys
May 2               Atlanta, GA                   Aaron's Amph. at Lakewood w/ The Black Keys
May 3               Nashville, TN                 Bridgestone Arena w/ The Black Keys
May 4               Chattanooga, TN           Track 29 w/ JEFF The Brotherhood
May 5               Memphis, TN                Beale St. Music Festival
May 10             Napa, CA                      Bottle Rock Festival
May 20             London, UK                   Roundhouse
May 21             London, UK                   Roundhouse
May 24             Paris, France                Villette Sonique Festival
June 14             Hultsfred, Sweden         Hultsfred Festival
June 15             Aarhus, Denmark          Northside Festival
July 11              Raleigh, NC                  Time Warner Cable Pavilion The Black Keys
July 12              Greenville, SC               Charter Amphitheatre w/ The Black Keys
Sep 6               Isle Of Wight, UK           Bestival
More dates to be announced soon. Keep an eye on www.flaminglips.com for details, new merch and important clues.